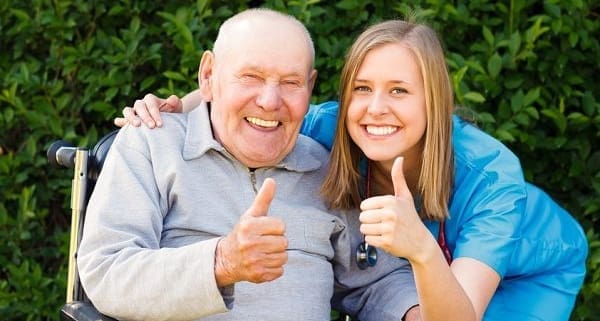 Choosing a Caregiver
One of the most difficult decisions a family or POA (Power of Attorney) has to make is choosing a caregiver service to use for their loved one or family member. An even more difficult task is finding an excellent caregiver that fits well with their loved one. As of 2004, they estimated 21% of households in the US are impacted by caregiving responsibilities so don't worry – you are not alone on this topic. 83% of families use family caregivers, i.e. family members, friends, neighbors, etc. So the challenge comes when a family doesn't have someone close who they can rely on to care for their loved one when needed.
You want your loved one to be cared for in the best possible way, especially if you are paying for a caregiver service. You want your loved one to feel safe, comfortable, and enjoy the company of someone who's there for them. One main way to find a good fit is to question the caregiver, like in a job interview. Since their job is caregiving, you can interview them to make sure they will gel with your loved one in a healthy way so that it makes their life as easy as possible.
Below is a list of questions to help interview and gain knowledge about the caregiver you are choosing to take care of your loved one, family member, or friend:
1.) Do you have any CPR or first-aid training? Do you have any formal caregiving training?
2.) Can you perform the duties required? (i.e. cleaning, cooking, bathing, etc.)
3.) What hours are you available? How much notice would you require if needed for unexpected caregiver services?
4.) Do you have any medical conditions that would prevent you from heavy lifting or daily care giving tasks? Would you be able to transfer someone from a wheelchair to a car or to a bed?
5.) Do you have any caregiving experience? What tasks did you perform? What do you feel are your caregiving strengths? What do you feel are your care giving weaknesses?
6.) (If cooking is a task) What experience do you have cooking? Do you enjoy cooking for yourself or others? What meals do you prepare?
7.) How do you feel about caring for the elderly? (Depending on the age group at hand) What diagnosis have you cared for before?
8.) How do you deal with stubborn, angry, or timid individuals?
9.) Give an example of a difficult situation you have dealt with while care giving and explain how you handled the situation.
10.) Will you keep daily records?
11.) Why do you feel I should hire you as our caregiver of choice?
Make sure you consult your loved one who will be receiving the care giving service. It is important to hear what they have to say about the topic and listen to their feelings. You are choosing a person who will be in their home or with them on a regular basis, so they will want to feel comfortable. Try to find someone who shares the same hobbies or interests. The best advice is to take your time and do plenty of research regarding your available options when choosing a caregiver.
https://www.premiercgs.com/wp-content/uploads/2015/03/make-a-difference-join-premier.jpg
423
600
Premier Caregiver Services
https://www.premiercgs.com/wp-content/uploads/2023/06/PCGS_logo.png
Premier Caregiver Services
2015-03-07 16:27:54
2023-10-06 10:13:08
Choosing a Caregiver