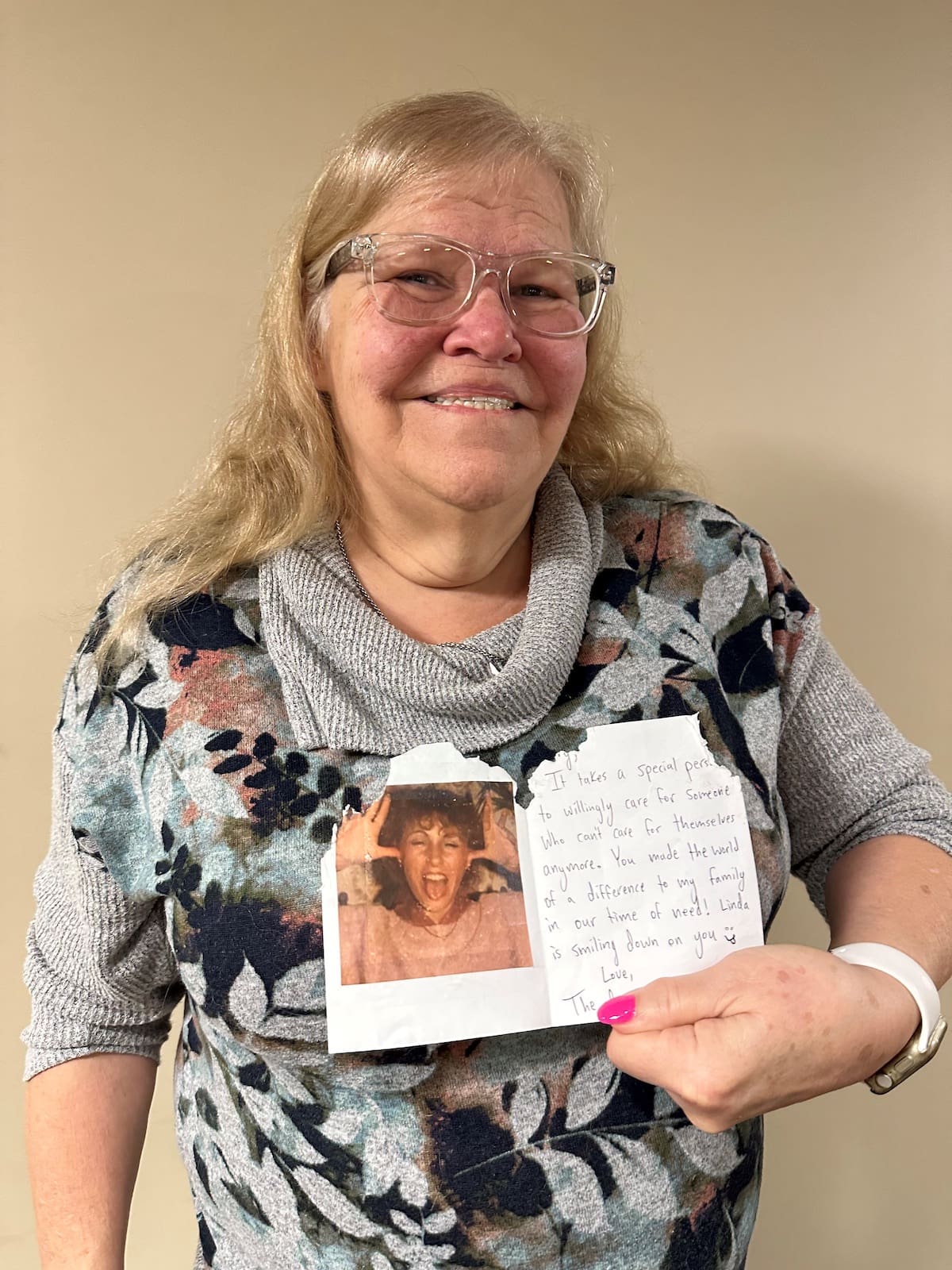 Each quarter Premier Caregiver Services hosts an in-person meeting with for all our caregivers and we bring in guest speakers for on-going training.  Our guest speaker was Britt Riddle DMin, MAMFT who is a marriage and family therapist associate at The Mindfulness Center.  She spoke to our caregivers about learning how to use mindfulness when facing frustrating situations.
Being a caregiver can be challenging and we want to recognize one of our caregivers,  Mary Kaylor for her dedication. Mary brought in a letter given to her from a client's family for whom she cared. She cared for a client's mom with Paraneoplastic Syndrome for several months and was there when she passed. We love and appreciate that families take the time to express their gratitude. It is what motivates all of us to serve others with the best of our ability, as Mary obviously did here. Way to go!
Mary has over 35 years of experience being a caregiver and has been with Premier Caregivers Service for 1 ½ years. Mary loves animals and has 2 dogs, 1 cat, and husband, Tom.  When she is not caring for our clients, she loves practicing her culinary skill, watching do it-yourself craft shows and her spending time with her grandchildren.
Mary is also one of our Care Specialist and Mentor Caregivers. This means she has completed an extensive training in many areas of caregiving but especially in Alzheimer's and Dementia Care. She has successfully completed the CARES Training Program. The CARES Dementia Certification is a 6-hour training program that recognizes and tests a user's dementia understanding and dementia care knowledge from the Alzheimer's Association Dementia Care Practice Recommendations and published CARES research studies of select CARES online dementia care training programs. In addition, Mary participates in our Mentor Program which a 4-part program, (Companionship, Personal Care, Mobility and Memory Care). For each part, our caregivers are mentored in a client's home for two hours and then another two hours to be completed and checked out for that part. That is 16 hours of mentoring and training that takes place in a client's home and is no additional costs to our clients. We do this to develop and grow our caregivers to ultimately provide the best in home care for all our clients.
Premier Caregiver Services is a uniquely passionate, in-home caregiving service for the effective and reliable non-medical care of your loved ones with dementia in Louisville, Kentucky, and the surrounding areas. Aimed at helping seniors maintain a high quality of life and independence at home, we offer a tailored experience from the first point of contact and go above and beyond to make sure that you, your family, and your loved one have best dementia care.
https://www.premiercgs.com/wp-content/uploads/2023/10/Premier-Caregiver-Services-Mary-scaled-e1698178150820.jpg
779
1733
Premier Caregiver Services
https://www.premiercgs.com/wp-content/uploads/2023/06/PCGS_logo.png
Premier Caregiver Services
2023-10-24 15:12:00
2023-11-17 09:58:55
Q3 Caregiver Spotlight: Mary Kaylor